VIKING 7 AND 5 SERIES PRODUCTS
Professional Performance for Your Home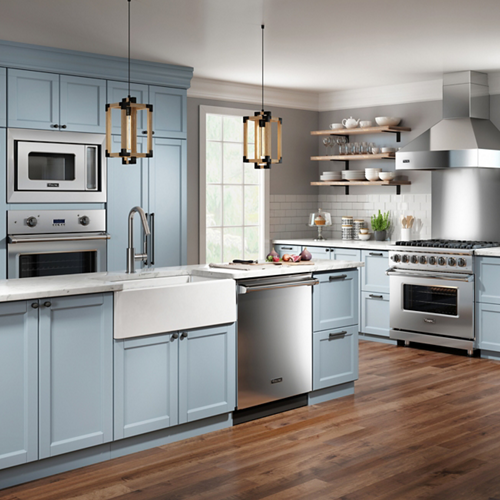 Before Viking, home chefs had no options. With Viking, there is no other option. Over the past 30 years Viking has become synonymous with the epicurean lifestyle, developing professionally styled and featured products for every major appliance category. Viking is again revolutionizing ultrapremium appliances by incorporating proven technology and innovative features, once reserved for commercial kitchens, into Viking appliances for your home.
Viking Ranges are the icons – the style and power that introduced professional performance to the home. We've made quite a few upgrades over the years, but these are still the ranges people see when they dream of a professional kitchen. Available in a variety of sizes, fuels, and burner configurations to accommodate any kitchen… it's just a question of how big you dream.
DOWNLOAD BROCHURE

7 SERIES RANGES
Viking raises the bar once again with the introduction of the totally new Viking 7 Series Range - the most innovative ranges in Viking history. The 7 Series joins the Viking 3 Series and 5 Series ranges as an ultra-premium extension of the renowned Viking brand, offering a new level of design and cooking performance for passionate home chefs.

Viking 7 Series ranges feature 23,000 BTU elevated surface burners adapted from the Viking Commercial product line, combined with a fully-featured convection oven to create a restaurant-caliber range unlike any other in the residential market.

Gourmet-Glo™ Infrared Broiler
Lock in all the savory juices of even the thickest porterhouse with the intense heat of the restaurant-quality Gourmet-Glo™ Infrared Broiler. Intense heat from broiler sears meats and fish locking in juices.
VariSimmer™ Setting
The VariSimmer™ Setting on ALL burners provides gentle, even simmering at precisely low cooking temperatures.
SureSpark™ Ignition System
The exclusive SureSpark™ Ignition System ensures automatic ignition/re-ignition should the burners extinguish any time while cooking.
SoftLit™ LED Lights
Exclusive - Control panel accent lighting illuminates knobs making them easy to read
Elevation Burners™
Exclusive - Elevated burners boast 23,000 BTUs across the front of all width configurations, with multiple 15,000 BTUs and one 8,000 BTU burner across the rear. Elevated flame ports prevent spillovers from baking on, making cleanup easy.
7 SERIES REFRIGERATION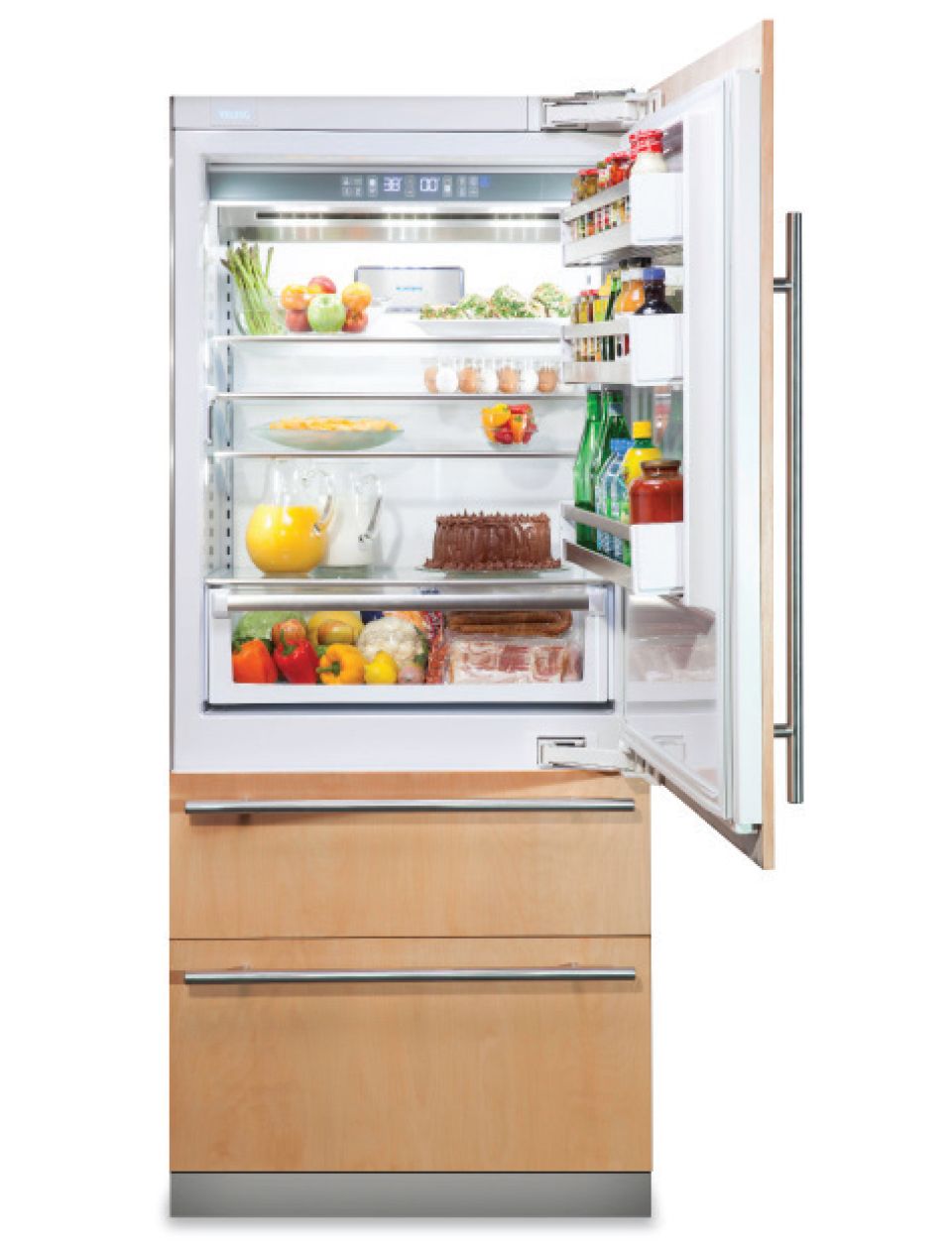 EXCLUSIVE BlueZone™ Fresh Preservation Technologyis a unique, patented air cleaning technology that strips microbes, ethylene gas, hydrocarbons, and odors from the air
Proprietary Fully Articulating Hinge has three dimensional adjustability for a perfect fit in integrated installations, and the hinge damper allows for smoothness when opening and closing door
Brilliant Led Lighting ensures all items are in clear view with bright, energy efficient, ramp-on theater LED lighting from top and sidewalls
Spillproof Plus™ Shelves with Nano technology create an invisible barrier to contain spills
Variable-Speed High-Efficiency Overdriv™ Compressor quickly chills food and saves energy
FEATHER TOUCH™ INTERNAL WATER DISPENSER Dispenses filtered water with a single touch
METAL INTERIOR AND METAL DOOR BINS Pre-painted, antimicrobial aluminum interior cabinet for long term durability and odor neutralization.
CAPACITIVE TOUCH CONTROLS Large user interface with separate key touch controls are intuitive and easy to use.
7 SERIES AWARDS
#1 Quality Rating for Ranges & Cooktops - Builder 2015 Brand Use Study
Viking Appliances Receive Prestigious GOOD DESIGN™ Award 2014
Winner Kitchen and Bath Business Readers Choice Awards for Cooking Appliances 2014
Kitchen Bath Industry Show People's Choice Awards 2014
Best Kitchen Appliances Worth the Splurge - Epicurious 2014
#1 Most Recommended Luxury Range, Dishwasher & Microwave - Women's Choice Award 2014
First Brand Choice of Affluent Customers for Cooking Appliances - Dwell Insights Survey Group 2013

5 Series Ranges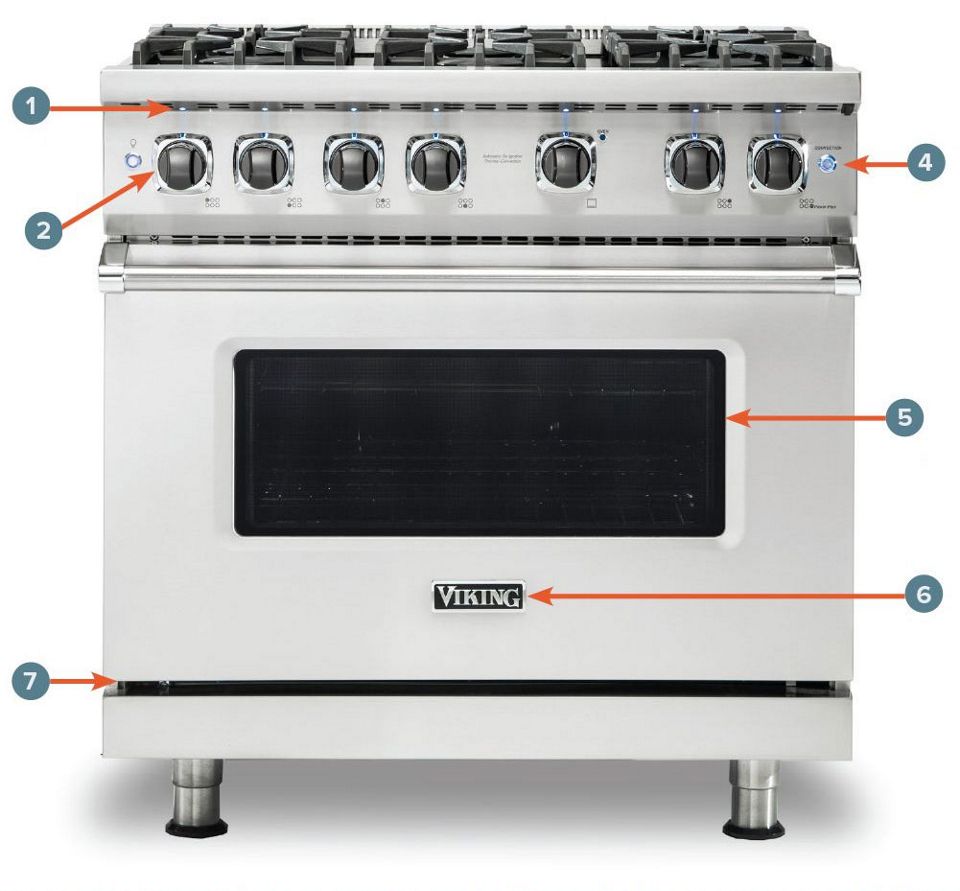 1. SoftLit™ LED Lights shine down onto knobs providing better visibility
2. EXCLUSIVE BlackChrome™ Knobs with square bezels with new cool grey graphics provide better readability
3. Commercial size baking pan now fits in all 36"W. VGR536 gas ranges
4. NEW Easy-to-use illuminated push buttons control Lights and Convection mode
5. NEW RackView™ Trimless Windows on oven doors are 20% larger allowing better visibility into oven cavity and entire oven rack to be visible
6. NEW understated 3 1/2" Viking logo
7. GentleClose™ Doors allow door to slowly close, ensuring delicate baked goods are not disturbed

8.

Numerous other quality and performance improvements include more efficient wiring, new oven ignition system, and easier gas connection